The perfect combination
Are you ready to take your customer contact to a new and higher level? With the extensive set of intelligent features of Anywhere365®, such as call recording, social media integrations and dialogue intelligence, the possibilities are endless. Don't forget the extensive reporting possibilities, which enable further optimization of previously hidden service processes. Anywhere365® is fully integrated with Microsoft Teams and therefore the ideal choice if Microsoft is the core of your IT architecture. The software runs in the Azure Cloud and uses SharePoint Online, PowerBI and others.
Anywhere365® is the first vendor in the world to be certified by Microsoft and Gartner has also named it the best choice for a native Teams customer contact center (Honorable Mention Magic Quadrant for Contact Center as a Service).
Reader tip: our collaboration with Anywhere365® in the DLL customer case study
Purple is Anywhere365 Partner of Excellence
As of the beginning of 2022, Anywhere365 announced they were starting their new Partnership Program. The program containing three levels, being Certified, Premier and Partner of Excellence. Since this announcement, the Purple team immediately started to pursue the various available training opportunities and assessments to achieve this status.
Part of the program was, for example, obtaining all necessary certifications. These certifications are divided into various levels and components on which knowledge needed to be tested. We also had an extensive look at our current customers who use Anywhere365 to be able to collect, as well as analyze, their experiences. Additionally, we have jointly set up a strategy to bind existing and new customers to Purple as Anywhere365 partner. The result of all this hard work? The highest certification level: Anywhere365 Partner of Excellence. This means we are a partner of the highest level, allowing us to help organizations even better in providing great contact center solutions.
Purple UCC Factory
Implementing a customer contact center requires precision, knowledge and a structured approach to minimize the impact on your organization. Being and remaining reachable to your customers is therefore the most important goal. Our experts have optimized the migration path to Anywhere365® with a step-by-step approach that is transparent, fast and scalable. This enables us to quickly convert and migrate your customer contact center to Anywhere365®. Meet the Purple UCC Factory!
Purple has developed the UCC factory in order to respond flexibly to our customers' fast-growing demand for Anywhere365®. This approach is based on an intelligent intake and design procedure, so that we build a customer contact center that meets all requirements. Through smart cooperation with the customer, we ensure rapid configuration, instructive user and supervisor training and ultimately a smooth live operation. Together, this forms an excellent basis for exploring new possibilities with dialogue intelligence, CRM, Back Office integration and omnichannel options, such as (web) chat, bots and social media integration.
Why the Purple UCC factory
Effective, fast and scalable:
Our specialists know Anywhere365® like the back of their hand and are familiar with every conceivable customer contact center solution and call flow scenario. Whether it's the reception, customer service, help desk or sales team; we help you manage all queues and voice and chat messages from one platform.
Precision and structure:
Our proven approach offers overview, control and transparency. You know exactly how things stand and when it is time for the migration. No complex stories, just simple steps and a straightforward approach.
Quality-by-design:
Purple delivers solutions that work. We involve the customer at every step of the way and validate the information at several points in the process. Doing so, we know for sure that we have a solid design. Finally, we test the customer contact center ourselves, just like your own users will do. Everything for a successful go-live.
Next article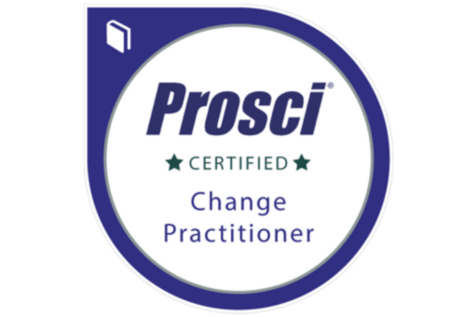 August 1, 2021
We are Prosci Change Practitioner