Microsoft Gold Partner: what does it mean?
In their search for a reliable Microsoft IT partner, we understand that businesses value the competencies, certifications and professional reviews of the partners they can choose from.
First, it is good to know that Microsoft calls its certifications "competencies." They are requirements designed to meet customers' specific needs and be recognizable to prospective ones. Microsoft offers 3 reliable certifications that tell you a lot about the partner to be evaluated: a regular partnership, a Silver partnership or a Gold partnership. For Microsoft, these certifications equate to a set of competencies that demonstrate specific professional skills. We are proud that Purple obtained these competencies, as it demonstrates that we are specialists in important and relevant areas. It shows that we have the right knowledge and expertise in-house and that we are recognized for this by Microsoft. Based on these competencies, we can call ourselves a Microsoft Gold Partner!
Silver & Gold
Silver Competency demonstrates that a partner has put special effort, ability and commitment into a specific business solution and that the partner has gone through an in-depth process to obtain that certification. They are among the top 5% of Microsoft Partners worldwide.
Gold Competency goes beyond Silver and represents the highest certification. A Microsoft Gold Partner shows a sky-high level of expertise and a proven, specialized skill set. A partner with Gold Competency has specialized implementation skills for offering innovative specific solutions. Only the top 1% of Microsoft Partners worldwide are Microsoft Gold Partners, and Purple is one of them!
A Microsoft Partner with Silver or Gold Competency must complete annual assessments to substantiate competence, skills and experience.
Why is it important for our clients that Purple is a certified Microsoft Gold Partner?
As a Microsoft Gold Partner, we meet and continue to meet Microsoft's strictest standards; their certification requires more than basic knowledge. It requires that our employees pass difficult assessments that we are tested on every year.

We ensure our clients that we are always up to date on the latest Microsoft technologies, offerings and solutions; we receive news and updates in an early stage and our employees get specific training.

We work very closely with Microsoft and we are in direct contact with them. This gives us advanced support within Microsoft Business Solutions and ensures fast response time and high quality support.

We can offer a selection of clients a Microsoft-funded proof of concept through the access to various product licenses and incentive programs from Microsoft.
As a Microsoft Gold Partner, we ensure optimal fulfillment of our client's needs by continuously developing in the various knowledge areas. We do not stop until we give the best. Purple has the skills, the experience and the partnerships to provide answers in any given situation.
The combination of our strategic partnership with Microsoft, together with our experience, industry expertise and innovation-driven vision, enables us to provide customized solutions for all our customers. Are you looking for telephony via Microsoft Teams? Or rather an advanced client contact center via Anywhere365? Purple can help you.
What are Purple's Gold & Silver Competencies?
Gold:
1. Communication
With this competency, we showcase our technical capabilities in implementing unified communications strategies for clients through the designing, planning, deploying, and maintenance of Teams solutions.
2. Cloud Productivity
This highlights our technical capabilities in delivering innovative and advanced Office 365 productivity solutions, showing how we help our clients deploy and manage applications like Teams, Exchange Online and SharePoint Online.
3. Cloud Platform
This shows our technical capabilities in deploying, migrating and maintaining cloud applications and services on Microsoft Azure, helping our clients make use of secure, scalable, and reliable cloud solutions.
4. Windows & Devices
This demonstrates our technical skills to deliver Windows services and devices, and to build, test, and maintain applications optimized for the Windows environment.
5. Project & Portfolio Management
We demonstrate our acumen in designing, building, and deploying enterprise-wide Project Management solutions based on the Power Platform.
Silver:
6. Collaboration & Content
This shows our proficiency in developing efficient and effective collaboration and communication practices in an enterprise environment on platforms such as Teams, SharePoint (online, on-premises, and hybrid) and OneDrive.
Microsoft Gold Partner: Purple is happy to help!
As a Microsoft Gold Partner, Purple makes sure you stay in touch with both customers and colleagues and helps you work wherever you are. Curious how we can help you and your organization? Get in touch with us! We love to add some Purple.
Next article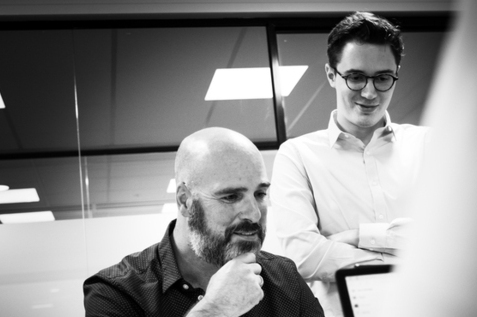 January 21, 2022
Developments at Purple!